Task Wizard
Automatic Backup Scheduler for MySQL
>
Help Document
>
Task Wizard
> SSL Protocol
SSL Protocol
SSL Options

SSL ( Secure Socket Layer ), the option is used for establishing secure connections using SSL.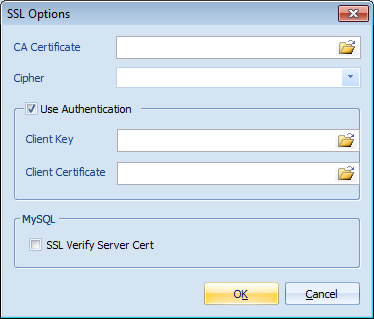 CA Certificate: The path name to a directory that contains trusted SSL CA certificates in PEM format.
Cipher: A list of permissible ciphers to use for SSL encryption. It includes AES256, DHE, RSA and SHA.
Use Authentication: The 'Client key' and 'Client Certificate' must match similar Server Certificates ( on the server itself ).

Client key: The path name to the key file ( X509 key in PEM format ).
Client Certificate: The path name to the certificate file.

SSL Verify Server Cert: Verify server's "Common Name" in its cert against hostname used when connecting. This option is disabled by default.
---
See also:
Copyright © 2021 Database Think Software. All rights reserved.